WE COULDN'T EMPOWER JUSTICE AND INSPIRE THE FUTURE WITHOUT THE HELP OF OUR GENEROUS CHAMPIONS
Our Champions play a special and vital role in providing the ongoing care, support, and services that our boys need to thrive. With your partnership through a one-time or recurring monthly donation, we're able to sustain the continuous flow of housing and services so our wonderful Upendo Boys' can focus on their education and building a brighter future.
BECOME A CHAMPION TODAY! HERE IS WHAT YOUR SUPPORT HELPS TO PROVIDE: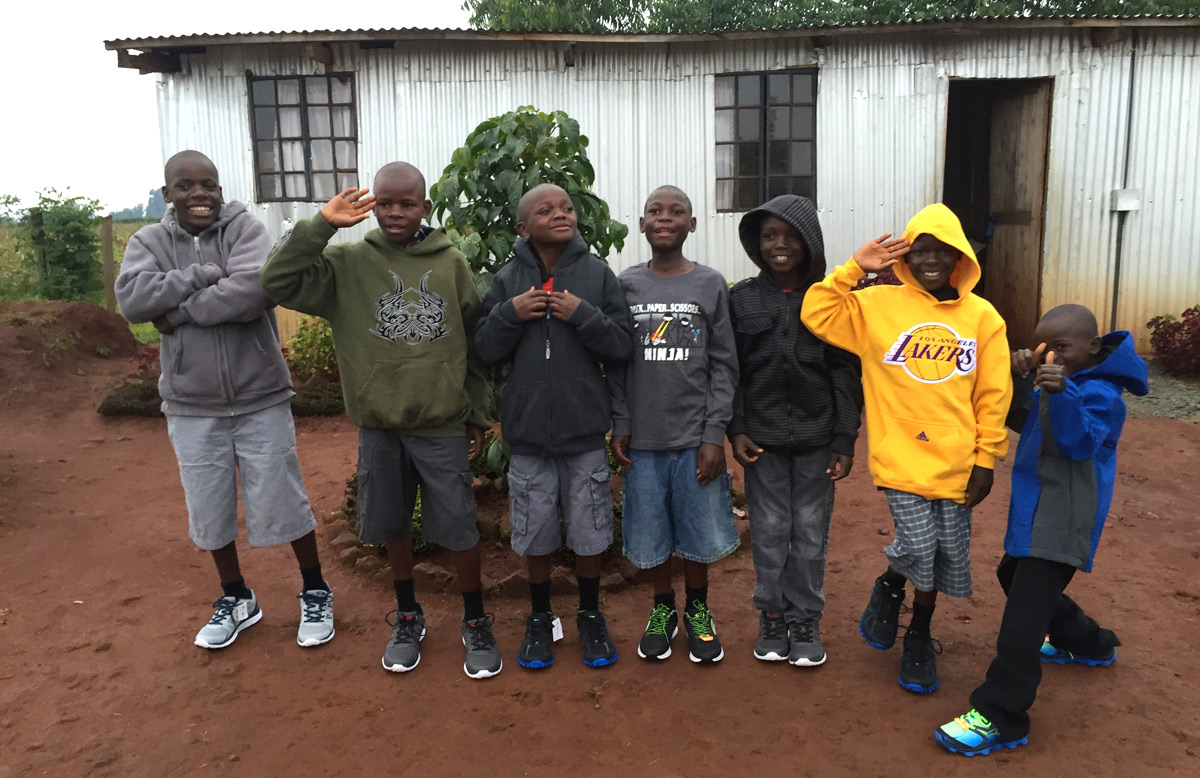 • Living as part of a large, loving family with committed guardian parents 
• Regular nutritious meals
• Comfortable and safe living conditions
• Consistent school attendance, including school fees and books
• Clothing and shoes for home and school
• Medical and dental care 
• Occasional simple outings, just for fun
Adri P.
Alicia L.
Amber P.
Amy W.
Andrew P.
Ann and Tony L.
Armando C.
Barbara V.
Bea B.
Becky P.
Beth G.
Beth Seavey
Bob and Tezzi A.
Brenda H.
Brooke V.
Bruce F.
Carmella C.
Carol J. C.
Carol S.
Carolyn C.
Cathy K.
Cherissa K.
Cheryl T.
Christina O.
Christina P.
Chrysti G.
Coleen C.
Coleen W.
Connie B.
Cynthia A.
Darlene W.
Darrell J.
David H.
Debbie M.
Debby M.
Debby W.
Deborah B.
Deborah W.
Diana E.
Diana N.
Don and Barbara B.
Donna N.z
Donna W.
Doshia W.
Eileen G.
Elaine S.
Eugenia P.
Eunice K.
Francine C.
Garrett and Katie C.
Gary and Linda M.
Georgina G.
Gina B.
Gina G.
Holly M.n
Huy T.
Jack and Carla L.
Janice T.
Jennifer B.
Jennifer C.
Jennifer E.
Jennifer J.
Jennifer S.
Jessie H.
Jillian H.
Joan S.
Joanie S.
Jodie B.
John & Candice H.
John and Pam S.
Jojo S.
Jondavid D.
Joyce L.
Joyce P.
Joyce P.
Julian B.
Julie P.
Julie S.
Karen B.
Karyn C.
Kathlene S.
Kathy K.
Kathy L.
Kathy S.
Kay O.
Kelly P.
Kim
Koko and Viking
Kristi M.
Kristina M.
Landeros
Larry and Lorraine R.
Laura D.
Laura J.
Laura M.
Laurel C.
Leigh P.
Leticia M.
Linda S.
Linn J.
Lori C.
Mark and Peggy M.
Marlene F.
Matthew G.
Matthew W.
Megan B.
Megan S.
Melissa R.
Meredith S.
Messy Little S.
Michiyo H.
Mike and Beth G.
Mike C.
Mike and Audra C.
Monica and George C.
Nichole D.
Nina O.
Offie P.
On Fire Fit
Pamela H.
Pat J.
Paul and Kathy E.
Priscilla M.
Randilyn H.
Randy B.
Rashida B.
Rick W.
Robin M.
Ron B.
Ronnell W.
Samantha B.
Sandy B.
Sara M.
Sara S.
Scott B.
Scott B.
Shannon P.
Sherree W.
Sonia C.
Stephanie F.
Stephanie L.
Stephanie M.
Sue H.
Summer L.
Susan S.
Susan T.
Susie M.
Tanna M.
Tati T.
Teresa A.
Tina A.
Tiny Trinket Shop
Tom S.
Tonya M.
Traci J.
Tracy M.
Tyler S.
Vera S.
Virginia F.
Vy T.
Wendy S.